About Us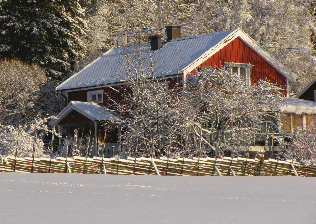 We like to Welcome you to kenel Cherry Bloomīs
We live in a small village just ten minutes drive from
the city of Örnsköldsvik.
With a lots of forrests and fields aurond us
makes it a perfect place for our six Irish setters.
Our dogs lives with us as familymembers,
and stays close to us day and night.
I just canīt stand having a lot of dogs and
not be able to spend time with them.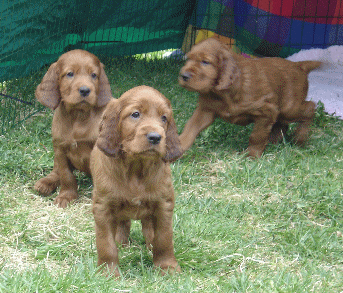 Our puppies is in our bedroom the first three weeks and
than they stays in the kitchen where they are able
to socialise, meeting people and get used to a lot of noices.
We also think that it is important for the puppies
to be outdoors as much as possible,
where they can move free and build their muscles.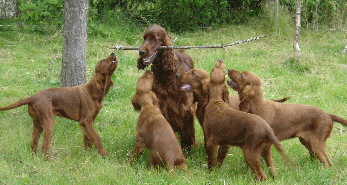 Our first Setter came to us at 1989. "Asso" Eel Gardenīs Call Boy
was not for shows, but he was a very nice and tender
Gentleman who made us fall in love with the breed.
He died in an age of eight and it became so very
empty without him.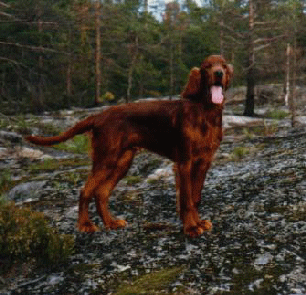 Our next Setter moved in at summer of 1995. "Felix"
Eel Gardenīs Tapping Toes was a very nice boy with a
great pondus and self confidence, and it made him
very stabil around other dogs.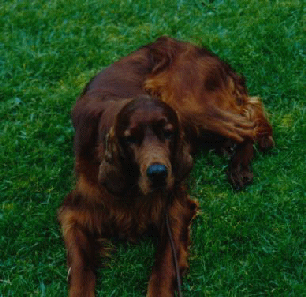 When Felix was 2,5 years old we got him a friend.
"Viktor" Eel Gardenīs Zquishing Zquirrel was from
a later litter but same combination as Felix.
They were brothers.
So they became best friends and had a lot of fun together.
Felix died only three years old and it made Viktor so sad
and so lonely, and of course us too.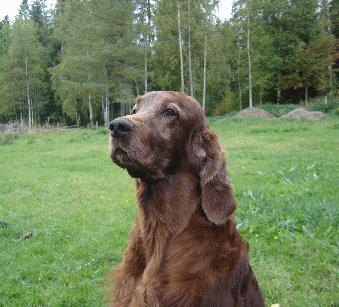 So we looked around for a new friend and at summer of -99
we brought Amadeus home. He was probably the cutest,
puppy I had ever seen, and he really stole my heart.
How I loved that dog! He was a very charming boy,
and good looking too, and we rally had a lot of fun
both at shows and here at home as vell.
But now he is gone. 8,5 years old we had to end
his pain from very bad hips. But he lives for
always in our hearts.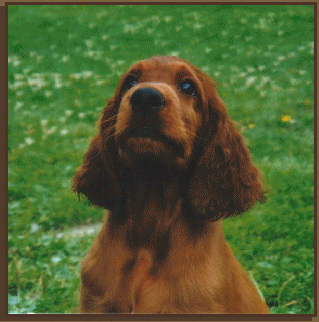 In springtime 2002 Viktor was mated with his first bitch.
So from that litter one of the bitches came to us.
"Alma" Copperīs Cherry Pie impressed us with her
energi and splended movements and raising.
When her hips was X-rayed with AA we decided to
mate her with some nice gentleman.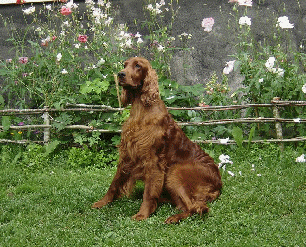 In the summer 2002 we finally mated her with a
brother to Amadeus. Classic Red Armani was the
proud father of Almas first litter.
The fifht of August 2004, our first litter was born.
Out of twelve puppies, we kept two of them.
CBīs Cornelia Cacao and CBīs Cameron Brig
Unfortunately that litter had a lot of dysplasia
ten of them was X-rayed and six of them had bad hips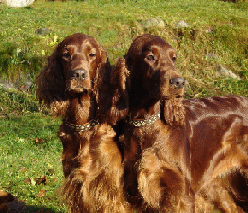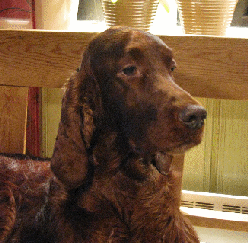 After almost three years of consideration we
decided to give our Alma another chance.
Finally we found a lovely dog that was complete
in our eyes. With big hopes about one not to big
litter we was waiting patiently of litter number 2.

The 10:th of April 2007 they arrived. A big litter
again. Out of 13 puppies eleven of them survived
and became very nice puppies. We kept
CBīs Vackra Vera and her two brothers
CBīs Brunögde Bruno and Charmige Charlie.
When Vera was only six month old she started to
move very strange. After x-raying we understood
that she had very bad hips. So very bad that we had
to put her to sleep. It feldt so hard and so unfare.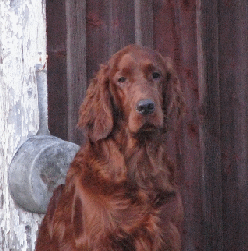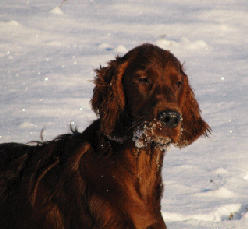 At the moment we wont breed, but we donīt know
what will happen in the future, but for now
we will enjoy our dogs and have fun at dogshows.
And we hope that they will stay well and healthy.

We like to thank our fantastic buyers for taking
so very good care of the Cherry Bloomīs dogs and,
we are so greatful getting to know you all.

Kristina & Tore